MUSIC PACKAGING AND TOUR BOOK DESIGN FOR JUSTIN TIMBERLAKE'S MOST ICONIC ALBUM


Album artwork and oversized tour book for Justin Timberlake's second studio album Futuresex Lovesounds. Designed while working at Lloyd+Co. The album achieved four US Mainstream Top 40 number-one songs. Many music publications considered it among the best albums of the 2000s. The design does not attempt to be more than meets the eye.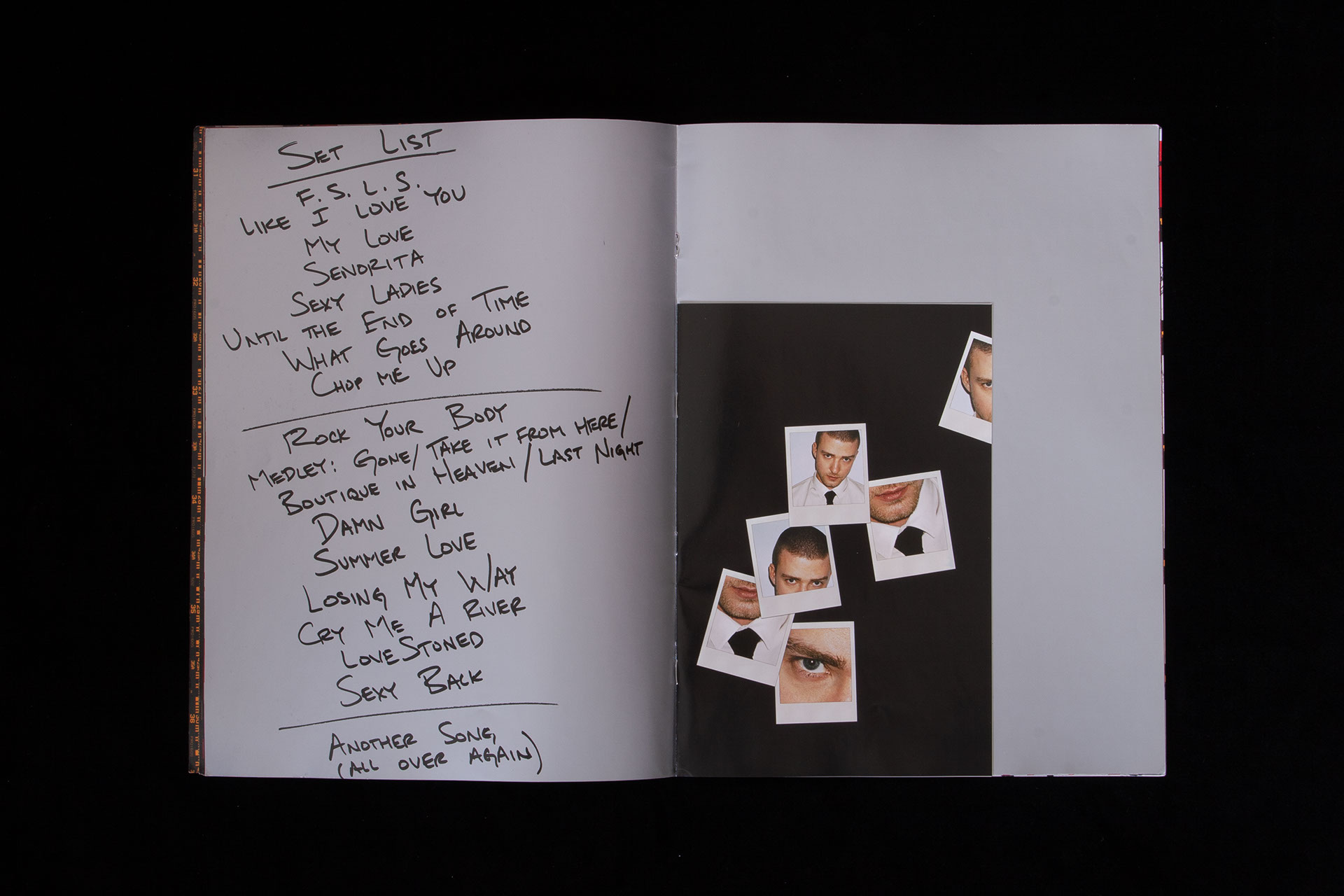 Photography by Terry Richardson


POST SCRIPTUM: THIS WAS THE FIRST PROJECT I DID AFTER MOVING TO NEW YORK. IT WAS A TOTAL FLUKE. THE MID LEVEL AD SITTING NEXT TO ME HAD THE PROJECT AND WAS STRUGGLING A BIT TO GET THE DESIGN APPROVED. HE ASKED ME ON THE SLY WORK ON IT ONE AFTERNOON, SO I TOOK 2 HOURS AND HANDED IT OVER. THOSE SKETCHES GOT APPROVED BY THE BOSS AND THE REST IS HISTORY. ABOUT A WEEK LATER I WAS EN ROUTE TO WORK ON A MONDAY AND THE POSTER I HAD DESIGNED ON FRIDAY WAS LINING THE STREETS. IT FELT VERY SURREAL AND GLAMOROUS, AND A BIT LIKE I HAD JUST SEEN THE MAN BEHIND THE CURTAIN. THE CYCLE OF CULTURE BECAME LESS MYSTERIOUS TO BE THAT DAY, FOR BETTER OR FOR WORSE.

POST-POST SCRIPTUM: I MOVED TO NEW YORK WITH NO SAVINGS. MY SALARY WAS LESS THAN 30K. A TYPICAL WORK DAY WAS 12–14 HOURS. NEEDLESS TO SAY I WAS BROKE. BEING SURROUNDED BY FASHON PEOPLE ALL DAY MADE ME FEEL LIKE A PEASANT. I WANTED TO feel GLAMOROUS, AND MY ART SCHOOL WARDROBE WAS NOT CUTTING IT. ONE DAY I RECEIVED DESIGN FEEDBACK, HAND-WRITTEN BY JUSTIN TIMBERLAKE ON PRINTOUTS OF THE DESIGN I HAD PREPARED FOR A MEETING (THAT I WAS NOT ALLOWED TO ATTEND OF COURSE). WHEN THE PROJECT WAS FINISHED I SOLD THEM ON EBAY FOR $800.